Protect your data
One of a business's most important assets is data, and losing that data could be devastating. Accounting databases, client documents, production information, and more are irreplaceable files that are a vital part of everyday business. Disasters such as hardware failure, ransomware viruses, power surges, and fire could destroy those files — and destroy a business. The best protection is to secure your important data with off-site backups.
MAI Drive powered by IDrive Online Backup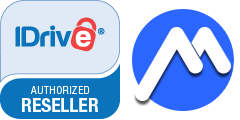 With MAI Drive, your files are uploaded to a secure off-site data center and safe from disaster. Files, Windows server databases, and Exchange email can all be backed up. An unlimited number of servers and workstation PCs can be protected with a single account. MAI Computing can manage the software installation, work with you in setting which files will be backed up, and monitor your online backup from daily email reports.
Pricing
MAI Drive's monthly pricing plan is based on how much total data you back up, regardless of how many PCs are being backed up
< 10 GB
10 GB - 100 GB
100 GB - 500 GB
500 GB - 1 TB
> 1 TB
Additional MAI Drive Features
Online File Sync
A professional collaborative shared folder manager (similar to Dropbox) included for free and using your online backup capacity as storage
Disk Image Backup
Create a local backup to save money on storage space, or upload the image file for complete protection
Multiple file revisions
Protect from accidentally overwriting a file with up to 30 days of file revisions
Scheduled or Continuous backup
Set a time for daily backups to run or set for files to be backed up all throughout the day
---